12 Things That Are Very Different About Christmas With a Baby.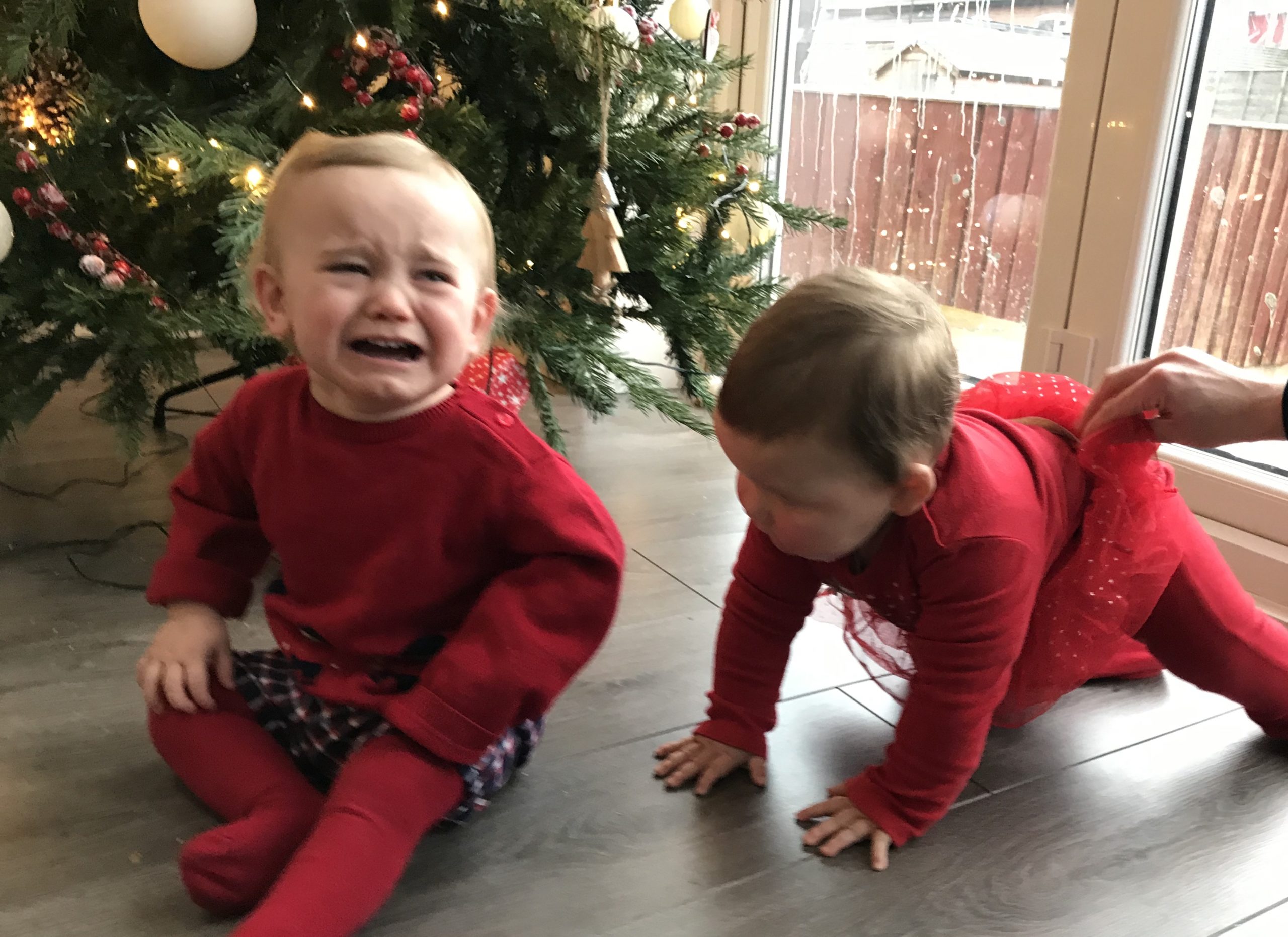 Well done everyone. You survived another Christmas without too many public meltdowns. Whilst last year was technically our first Christmas with a baby, we were complete chaos. In fact, it gained Christmas a place on my list of Fun Things That Are Bad For Your Anxiety. He was a matter of weeks old, not feeding and we were completely absolved of all festive responsibilities. There wasn't enough brain space to process how different Christmas was once you had your own baby. This year however, the differences were clear. And, oh how Christmas is forever changed.
Christmas Eve Drinks
Before: Where's everyone meeting and someone make sure I'm not too drunk at midnight so I don't ruin Christmas with a hangover again.

After: What's the most exciting hot chocolate I can find to drink at home in front of the TV
Christmas Gifts for Kids
Before: This toy plays 17 different songs, recites the Oxford Dictionary and teaches them to count in mandarin, their mum will absolutely love it.

After: Which of these toys plays the least annoying sound for the shortest amount of time.
Choosing a Christmas Tree
Before: Real trees are more authentic, smell festive and release fresh oxygen into the air.

After: If we buy an artificial tree this year, the baby wont choke, eating pine needles off the floor again.
Positioning a Christmas Tree
Before: If I move that armchair 2 foot to the left my tree will look gorgeous right in the middle of the bay window for everyone to admire.
After: Where can I put this so the baby can't pull the entire thing on top of themselves or chew through the wire of the lights?
Visiting a Grotto
Before: Which is easiest to get to and has the most photogenic backdrop and best lighting.

After: Can anyone vouch for this Santa?
Christmas Shopping
Before: What's the last date I can order things for guaranteed Christmas delivery?
After: I have a day off mid November, without the baby, I'll make a list and get everything done then.
Wrapping Presents
Before: Baileys, Christmas movies, a couple of hours set aside and all the space in the world to lay out wrapping paper, tape and gifts in order.
After: How can I wrap 28 presents in the 20 minutes before my kid wakes up and not leave any dangerous objects in reach?
Christmas Outfits
Before: I want a lovely outfit for the day. Festive, but not cheesy and a Christmas jumper to wear for dinner.
After: Where can I find a snowman onesie, Christmas pudding outfit, a flashing light Christmas jumper in 12-18 months and a victorian shorts and shirt set for the day? For under £100.
Going to Christmas Dinner
Before: What time are we sitting down for dinner? We'll get there early.
After: I'll put the baby down early for their nap so they'll wake at 12:30 so we can be to you by 1:30. No sooner.
Eating Christmas Dinner
Before: Let's see how much food this plate can fit and how much I can eat without being sick.
After: Give me a chair at the end of the table so I can sit next to the baby and stop him throwing food at everyone.
Drinking on Christmas Day
Before: I'm not driving and I'll try to get through dinner before being wasted.
After: I'll have half a champagne with dinner and another with chocolates later but I need to drive the baby home to have him bathed and changed for bedtime.
Boxing Day
Before: What time are we getting on it lads? Session of the year!
After: Which relatives didn't see the baby yesterday, we'll have to give them time slots and do the rounds.
It's not all sacrifice though. They won't be baby's forever. The best thing about Christmas with a baby, is seeing the glimpses of the Christmas magic which will only become more magical next year.