4 Bonfire Night Activities for Toddlers In Lockdown
Remember, remember the 5th November. When we look back through the bonfire night's we've spent, 2020 will be remembered as the one we spent in lockdown. While there may not be the big crowds gathering in local parks to admire great displays of fireworks, you can still make the day special. Here's some bonfire night activities for toddlers in lockdown.
Bonfire Night Activities
Wax crayon etching.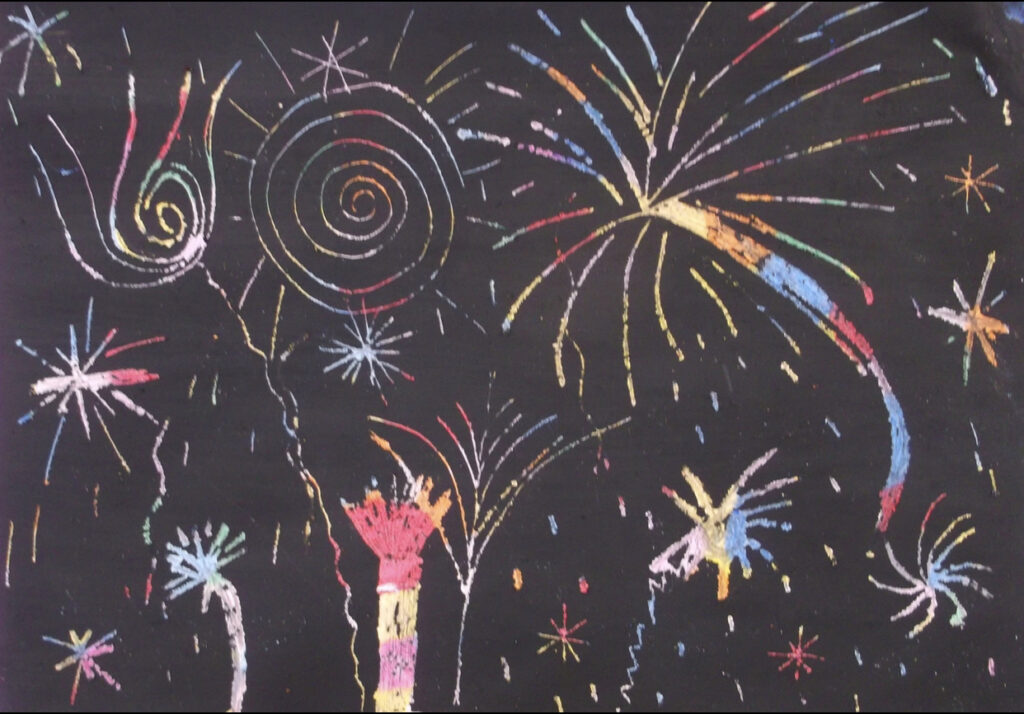 Wax crayon etching is the perfect way for your little ones to create their own night sky, firework scenes.
Paper, coloured crayons, black water based paint and something to etch your image with. We used lollipop sticks.
Using the brightest colours in the box, cover the entire paper with crayon patterns. Once completely covered, apply a layer of black paint to create your dark night sky and allow to dry. With your lollipop stick (or other etching tool), scrape off the paint to create bright firework patterns on your page.
Edible sparklers.
This is so simple and really looks the part on any bonfire night banquet. Any long, thin biscuit can be used for the handle of your sparkler. Chocolate fingers are a popular choice. I went for micado biscuits.
In a small bowl, melt a small amount of chocolate. We chose white chocolate. In a separate bowl pour some sprinkles. Ours were gold and silver for extra sparkle.
Simply, dip the end of your sparkler in the chocolate, then again in your sprinkles. Set aside on a tray or plate to cool.
Fruit Rockets.
You may not be watching firework rockets soaring into the sky this bonfire night, but we liked making our own alternatives just as much.
You'll need wooden skewers, tin foil and a selection of fresh fruit.
Cut your tinfoil into thin strips of around 5cm long. Glue them to the bottom of your skewers to form the tail of your rockets. Leave to dry.
Choose one of your fruit to cut into triangles for the head of your rockets. We found strawberries or watermelon were great for this. Thread your fruit onto the skewers, topped with your rocket heads and serve.
Glowstick sparklers.
Using tinfoil and glowsticks you can create a sparkler safe for your toddlers to enjoy.
Cutting tinfoil into thin strips, use tape to attach to one end of your glowstick creating your sparkle.
Dim the lights and snap your glowsticks, lighting your sparklers.
Just because we're in lockdown there's no reason our little ones can't still have fun. With a little creativity you can celebrate from the warmth of your own home.
If you do decide to use sparklers or fireworks at home then please follow the safety guidelines outlines here.