Not Going Home – Neighbourhood, Liverpool Review.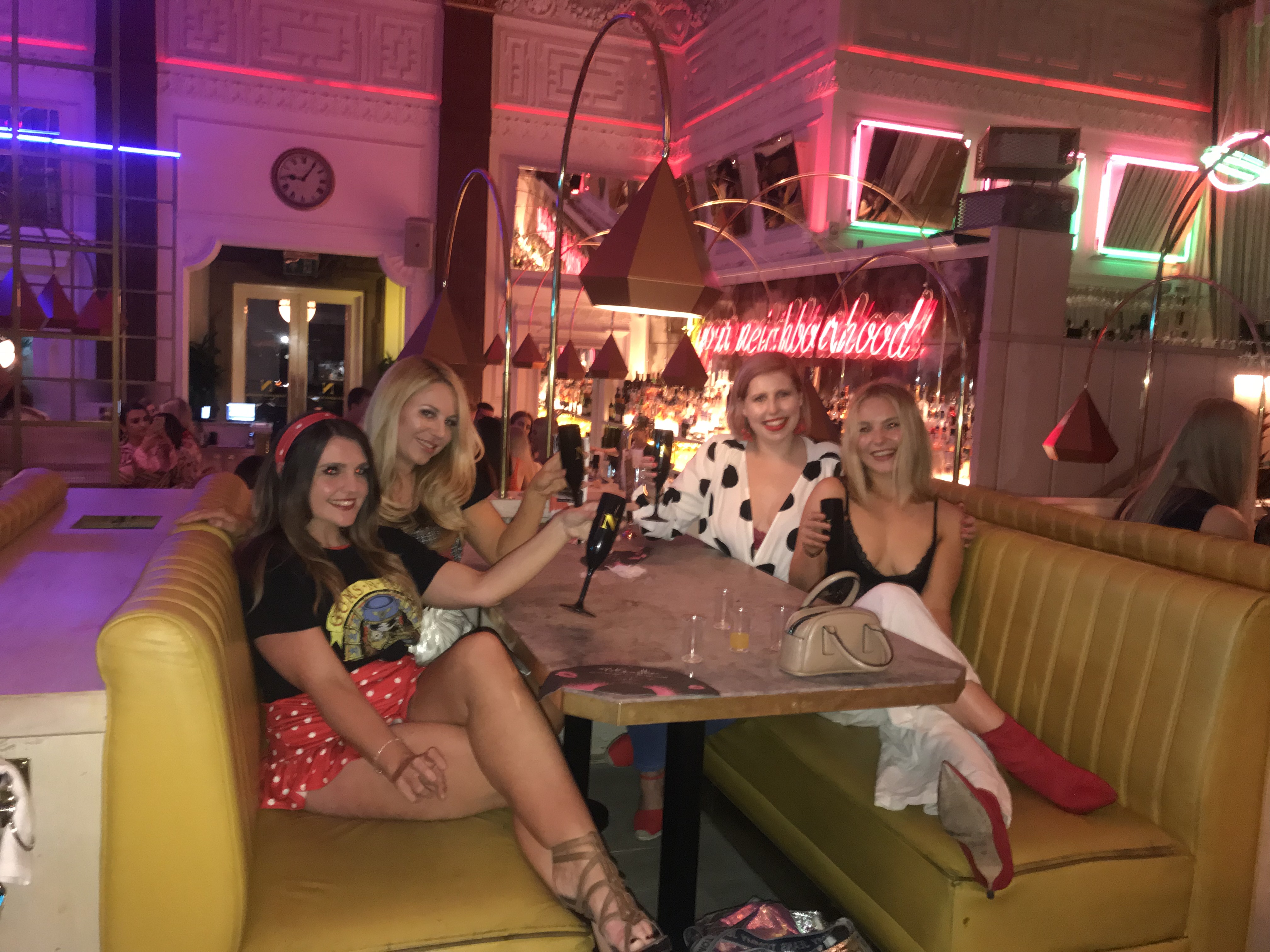 When I was planning a girls' night out in my 20's I wanted loads of alcohol, somewhere glam I could get my legs out and a DJ who knew how to get us on our feet. Now, in my 30's. When I plan a girls' night out, I want good food and drink served to the table, an instagrammable location and a 90s playlist. Girls, ladies, last month I found somewhere that satisfied the me of today and my inner twenty-something.
Neighbourhood on Castle Street, Liverpool, gave me an excuse to dig out my heels and dress up. Offered several perfect backdrops for an instagram grid pic. Served up enough food to keep me satisfied and an abundance of drinks to the table. And, on Thursday's, they play the kind of 90's R&B that make a whole room of people stop their chat and shout along. Here's my Neighbourhood, Liverpool review.
We booked an early, 6pm table because, well, we like to finish drinking with time to get the last train home and recover before morning. From our mezzanine table we watched this vibrant dining restaurant effortlessly turn into a sing along party.
Not Going Home – The Deal.
For £30 you can have 90 minutes of bottomless drinks, 2 small plates served with truffle fries and listen to all of the favourite songs you wish you heard more often.
The menu is small, but there's enough to find something to everyone's taste. I chose the crispy duck sushi rolls and the cheese dogs. When you go, you won't see 'cheese dogs' on the menu. There's a footnote saying "Vegetarian Option Available" and I was glad I asked because they were amazing.
The deal is 2 plates each but they're all served so that 4 plates are easily shared between two, for variety. Obviously I swapped one of my friend's slider burgers for a dog. The sushi was my favourite and I'd come back just for that.
Sometimes at bottomless events you can find the service to be slower than you'd like. Not here! The staff were topping up our prosecco glasses faster than we were emptying them. We tried the house cocktail, which was lovely. There was less need to have to ask for a top up with prosecco though, so generally we stuck to that.
And the end of your 90 minute session you're served up a shot tower. Complete with sparklers, this is all the excitement a table of girls need to go that little bit wilder. Thankfully for our table of girls with work and babies to wake up to, the shots were only mildly alcoholic. If your group goes expecting a whole load of tequila you'll be disappointed. We were made up as this marked the end of our night.
Who Should Go?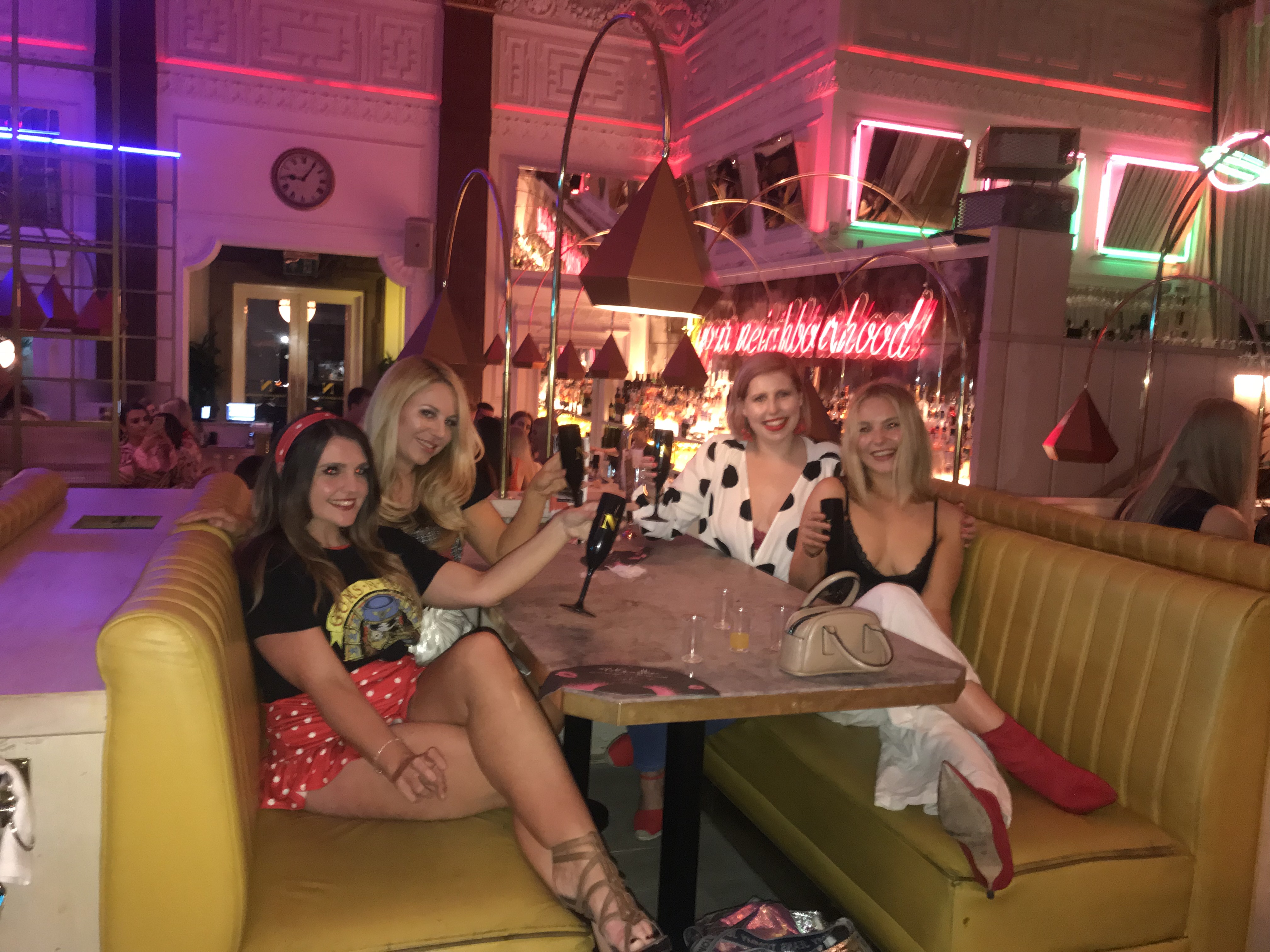 To summarise my Neighbourhood, Liverpool review, Not Going Home, Thursday's at Neighbourhood, is a great girl's get together. If you're not as wild as you used to be, I'd recommend an earlier table. Our 6pm booking meant we were served our meal while the music was still building up. We could hear our conversations with plenty of time to catch up on the gossip. But, we were still around with a shot tower for the start of the party.
It gave me just enough time to enjoy an evening off from motherhood without paying for it the next day. New mum's, you'll know the risk of losing your identity when you become "mummy". Time doing things for just you are necessary. I wrote about this in another blog you can find here.
If Thursday is the start of your weekend and you're actually not going home, book a later table. Last booking's for this deal are 9pm. If you book for then the place will be absolutely booming when you arrive. You'll be up dancing more than eating, so concentrate on making the most of the bottomless drinks.
I would definitely recommend this for any group of girls. You can book here for Thursday's coming up.