Taking a Baby Skiing – 9 Tips You Need to Read.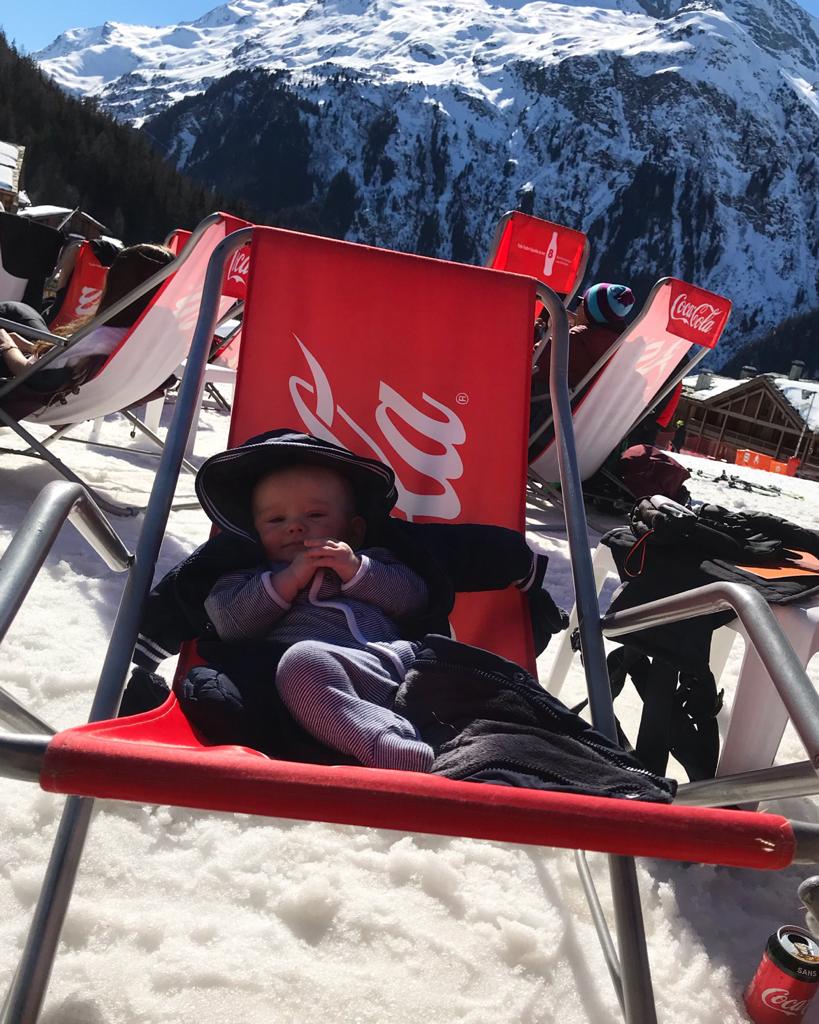 I was relatively late to the annual ski trip party. My first time on skis wasn't until my late 20's, and just as everyone said I would be, I was instantly hooked. I loved the air, the adrenaline, the exercise and the apres. It certainly never envisioned I'd soon be skiing with a baby. I timed getting pregnant perfectly for the snow seasons. Falling pregnant 3 weeks after getting home from St Anton, by my maths that gave me 3 months to recover for the following year's trip. So, 4 months into pregnancy, when I was barely showing and it was still a breeze, I insisted we'd be fine to book a chalet with friends… and the baby.
There were two camps when talking about this decision. The "well done you! Start as you mean to go on" people. And the "You'll change your mind when he's here. You're mad taking a baby skiing" people. Well, baby boy arrived and I didn't change my mind. I may have questioned whether i'd lost m mind at
1. Research the Childcare Options First.
Your ideal resort pre kids may not be your perfect match, post. Where Apres and slope maps was once your research, the availability and location of the creche should now be your starting point. Resorts with good creche facilities are going to be very popular with families. Checking availability should be done before you book your flights and accommodation.
2. Book a Low Altitude Resort
Babies are at greater risk of altitude sickness so take it easy. If possible, book to stay at a lower altitude resort further down the mountain. You can always get the lift to higher slopes once your baby is in creche.
3. Travel With Friends
Airport's can be stressful at the best of times. The higher the adult to child ratio getting through the airport and to the resort, the better. More hands to hold the baby while you're undressing and redressing at security.
4. Ignore Your Airline's Offer to Priority Board
"Passenger's travelling with babies and young children are invited to board now". I used to hear this and wish I was one of the chosen ones. Now I realise encouraging parents to sit on an aeroplane with a baby or young child, any longer than necessary is ridiculous. Decline the invite. Wait it out and board last. Nobody is stealing your already assigned seats!
5. Book Transfers With A Car Seat
Airlines usually allow you to check in both a pram and a carseat. But, why bother adding to your already endless list of baby paraphernalia if you don't have to? Chances are, the only time your baby will be in a car during your ski trip will be the transfer to and from the airport. Most operators will send your transfer vehicle with the necessary car seat if you request it when booking.
6. Book a Chalet at the Foot of the Slopes
Having your base camp close to the ski lifts, shops and restaurants will make it easier and faster if you need to pop back to attend to your little one. It will also reduce the distance you'll have to lug your ski equipment and all the baby paraphernalia young children travel with.
7. Get Your Baby Used to a Sling
I don't care how well you think your pram handles off roading at home, once you're up a mountain it's a whole new game. When there's been a massive dump (yes, that's the technical term) of fresh powder, no pram in the world is getting through. Unless you plan on spending your entire trip in your accommodation you're going to be doing your best to safely navigate the snow on foot. With your baby safely strapped to you in a sling is your best chance. Get them accustomed to this mode of transport before you leave.
8. Keep Baby Well Hydrated
At altitude, your baby will breathe faster because there is less oxygen. In the drier mountain air more water will be lost through breathing so it's important to replace this. They will need to drink more water or milk than usual.
9. Have a Bowl of Water on the Bedroom Radiator
You'll often find your accommodation in the mountains will be super warm. Add this to the already dry air and you're all at risk of ending up croaky. Especially your younger family members. Keep a bowl filled with water on the radiators in your room and you might find the air more
10. Keep Baby's Head, Eyes and Hands Protected From The Sun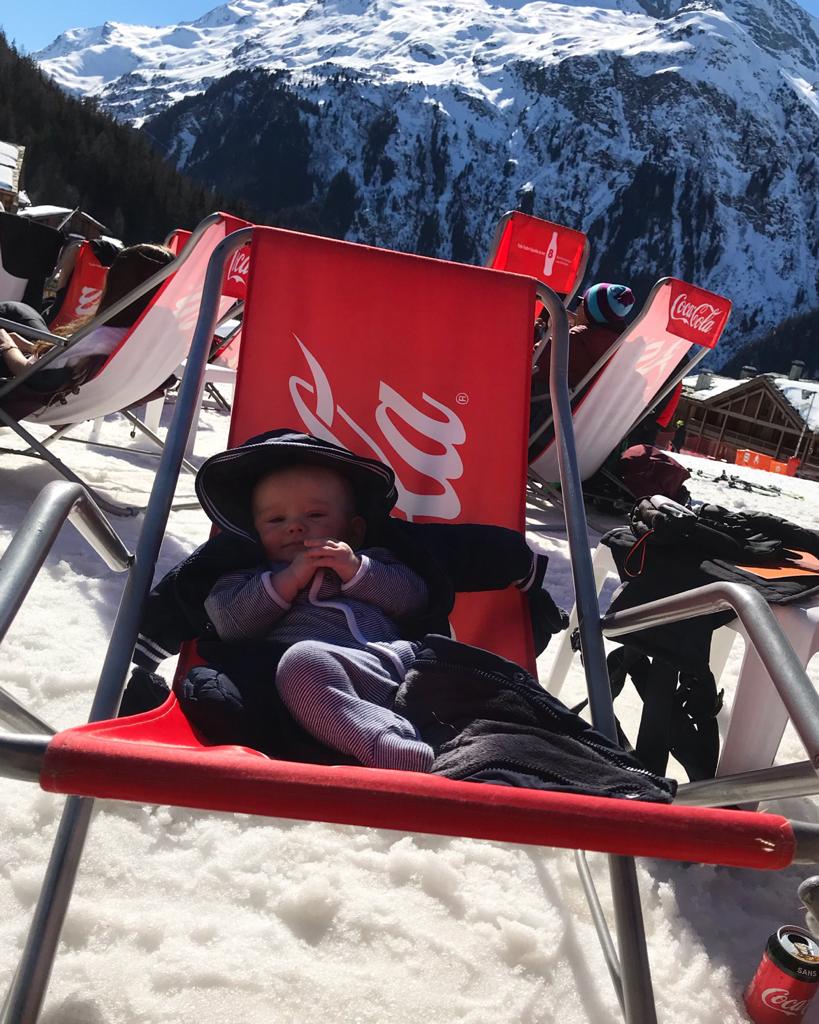 Wrapping your baby up warm will be top priority when you take your baby outside in the snow. Protecting them from the sun is often overlooked because it's not hot. Due to the high altitude and light bouncing up from the bright, white snow, UV exposure can be worse than you think up the mountain. I covered this in more detail in my blog Do My Children Need Sunglasses.